COLLABORATIVE MOBILE LOGISTICS ROBOTS
KELO DT 500 and KELO LC 750
Transportation of carts and dollies
The two collaborative robots KELO DT 500 and LC 750 can transport about 90% of all mobile load carriers such as parcel trolleys, carts, and dollies with a minimum ground clearance of 135 mm.
KELO DT 500  (dock & tow) has a docking mechanism that allows it to dock to and undock form a large variety of carts. The carts are detected by our AI-based object recognition software. Once the robot has safely hooked up the cart it will tow the cart to its destination in the facility and release it there.
… more.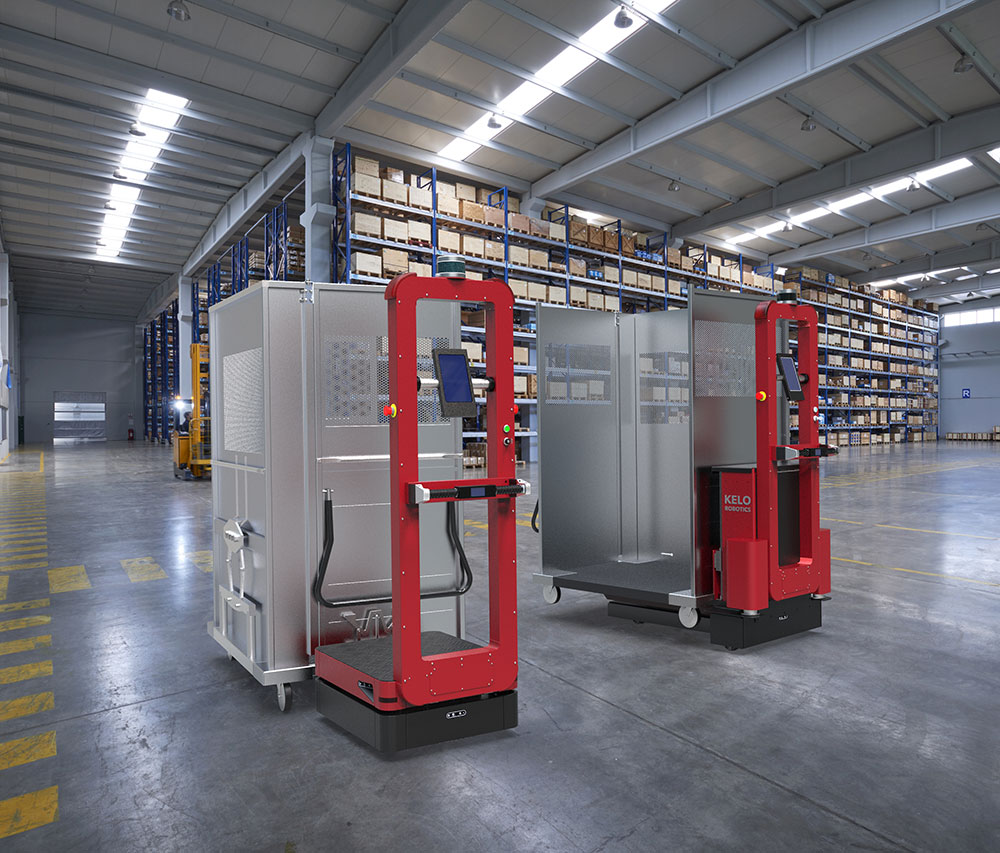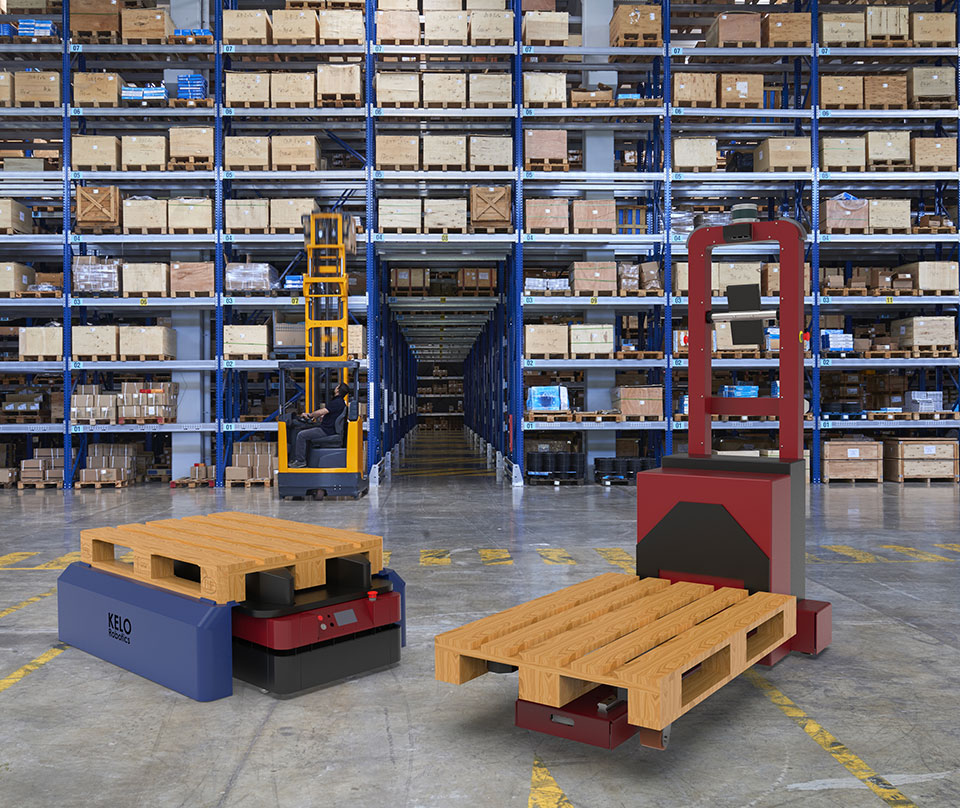 KELO FL 1000 and KELO PM 1000
Transportation of pallets
KELO FL 1000 (forklift) and KELO PM 1000 (pallet mover) are both designed to move pallets. When in autonomous operation mode both robots can navigate freely in warehouse. KELO FL 1000 has an extendable fork that can be moved underneath a pallet and lift it off the ground. When a human worker grabs the handlebar the robot is turned into an interactive mode. In this mode it can be operated like any electric pedestrian truck. The human worker can, for example, push it underneath a pallet that needs to be transported away and lift the pallet.
… more.
KELO LC 200
Transportation of totes
KELO LC 200 (lift & carry) is designed to transport totes and other containers in an order fulfillment center for larger objects. The containers, which have standardized sizes (60 cm x 40 cm and 60 cm x 80 cm) and can weight up to 200 kg, are automatically picked up at transfer stations next to the place where the order is commissioned and transported to transfer station near the shipping dock. The fleet management, which coordinates the activities of the robots, also manages the supply of totes and ensures that a sufficient number of totes are available at each commissioning station.
… more.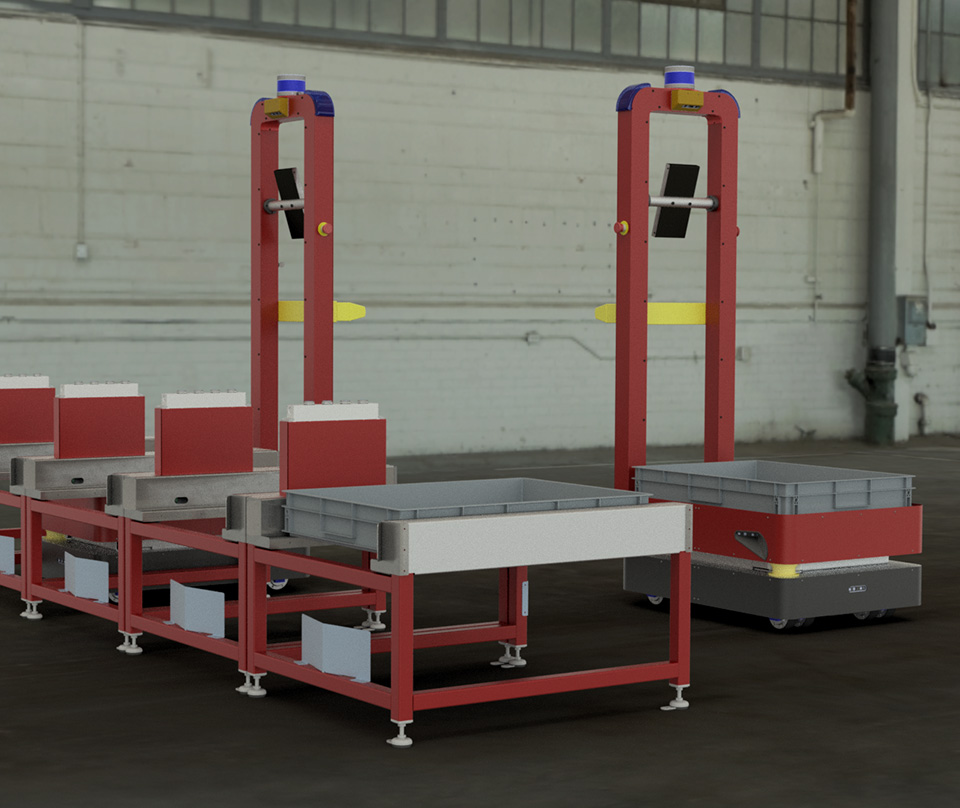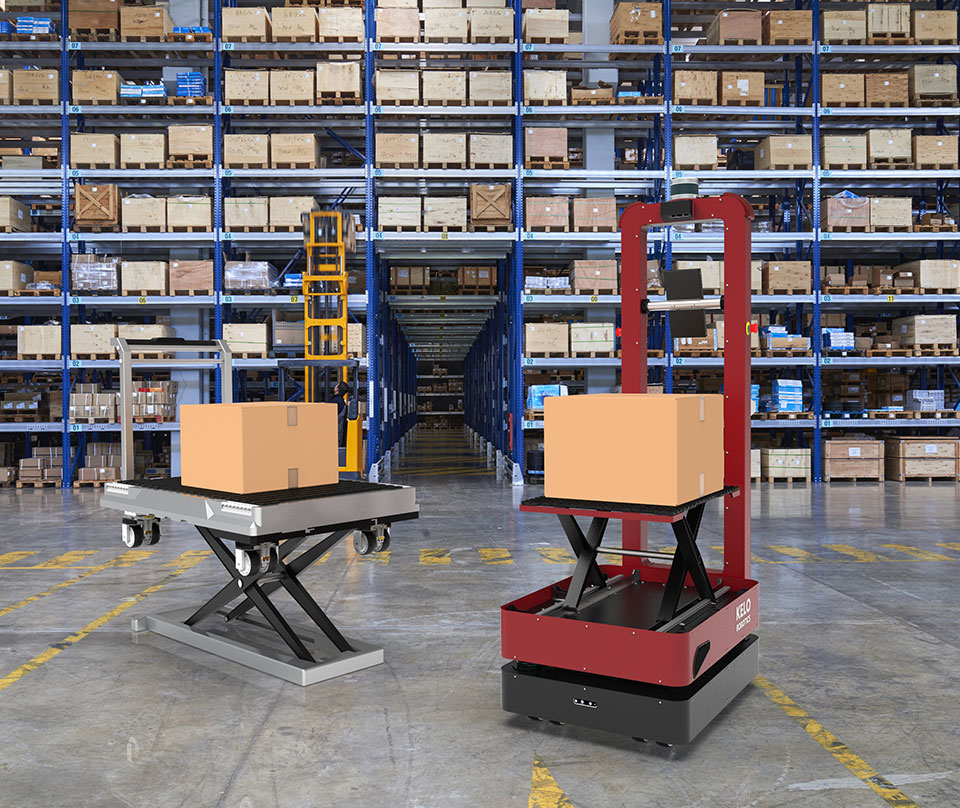 KELO LC 350 and roxetto
Collaborative lifting and transport of bulky items
The two robots KELO LC 350 and roxetto are both designed support the human worker in lifting and carrying heavy and bulky items.
KELO LC 350 (lift & carry) uses a scissor mechanism to lift bulky and heavy items up to a height of 1 meter above ground. It can operate autonomously but also collaboratively under the control of a human worker who can freely move it around by exerting force on the handlebar. It can support human workers for example in moving a heavy load into the loading area of a truck of moving or picking an heavy object from a conveyor belt.
… more.
KELO AD
Autonomous disinfection of public facilities with UVC light
KELO AD is designed to decontaminate public facilities such as fair grounds, hospitals, convention centers, airports, universities by means of UVC light (257 nm). Unlike many other UVC-based disinfection robots KELO AD can operate in the proximity of humans. It is equipped with a people detection system consisting of a camera system with a 360º view and an AI-based algorithm, which detects humans in the video stream and turns off the UVC lamps pointing towards a human.
Technical specification:
Drives: four 24V omnidirectional, inherently safe KELO drives
Foot print: 65 cm x 65 cm
Height: 200 cm
Weight: 85 kg
Battery capacity: 2 x 40 Ah
Operating time with UVC lamps turned on: 4 hrs.
Nominal disinfection velocity: 0,1 m/s
Max. velocity: 1 m/s
Coverage: 360 m per hour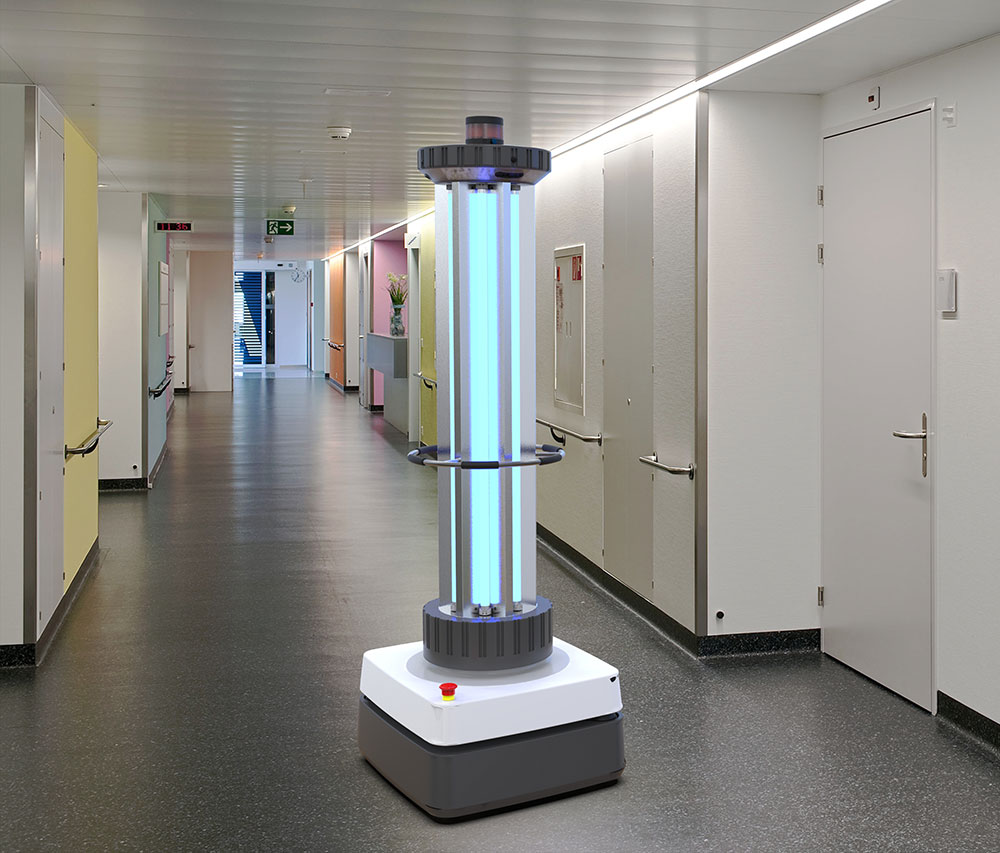 Rapid prototyping mobile service robots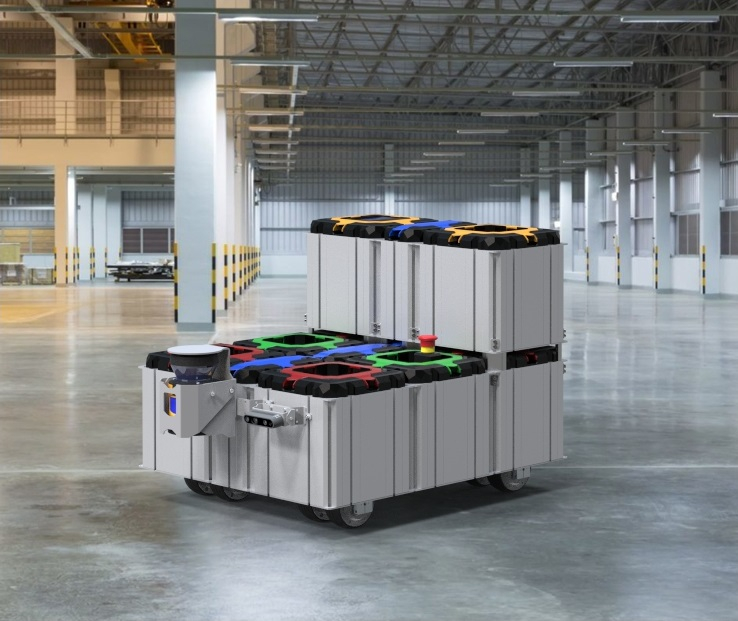 KELO ROBILE
A construction kit for rapid prototyping mobile service robots
KELO ROBILE is a collection of modular industrial robotic components (bricks), which allow you in no time to design a mobile robot platform with the performance of an industrial robot. All bricks have standardized sizes (full brick: 230 mm x 230 mm or half brick: 230 mm x 115 mm) and can be connected in arbitrary configurations only with a set of fasteners and cables. KELO ROBILE supports a wide variety of designs ranging from minimal configurations for educational purposes to rapid prototypes of full-fledged professional mobile service robot applications. Initial configurations can be quickly changed and extended, once more budget becomes available or requirements change. KELO ROBILE is compatible and can be combined with aluminum system profiles (T-slot 8) from other manufacturers.
Key components:
Active and passive drives (based on KELO drive 105/125), master battery with power management unit, slave battery, CPU and GUI brick